Methods For Choosing The Best Kitchen Remodeler For Your Project
Find The Best Kitchen Remodeler For Your Dream Project
It is important to choose the best kitchen remodeler. This is not a decision that should be made quickly. After all, their work will bring your dream kitchen to life! At DNT CUSTOM, we offer quality kitchen remodeling with excellent design. Our customer service is great, and we promise you will be happy with everything. We will help you put your projects in order of importance and stick to your budget and deadline. Call us at (815) 501-8262 or visit our page for a free estimate and see how good our work is.
6 Top Methods For Choosing The Best Kitchen Remodeler
1. Look For A Remodeler With A Strong Track Record
If you want to redo your kitchen, finding someone who has done it a lot and does good work is best. See if the person has been doing this job for a long time and if other people like their work. You can also check to see if anyone has complained about them before.
2. Get Multiple Estimates
It is a good idea to ask different people for estimates (prices) for the work you want to have done. Ensure the estimate includes everything we need, like materials and labor. Don't just choose the person with the lowest price. Consider if their estimate is a good value and if they know what they will do.
3. Check Their Licenses And Insurance
Before you hire someone to help, you change your kitchen and check if they have a license and insurance. This protects you in case something goes wrong. You can ask the state if the person has a license and insurance.
4. Think About The Designer's Skills
If you want to change your kitchen, hire a remodeler. The remodeler should be good at design so they can make the kitchen look how you want. Ask the remodeler for examples of their past work or references from clients.
5. Pay Attention To Communication And Professionalism
Choose someone who is easy to talk to and professional to remodel your kitchen. A good remodeler will listen to your wants and help you plan. They should also answer your questions and keep you updated on the project.
6. Look For A Remodeler Who Is Responsive And Reliable
You want a kitchen remodeler who will listen to what you want and do good work. Hire a remodeler who arrives on time and finishes the job on time. Look for a remodeler who answers your questions and cares about what you have to say. They should also be willing to do whatever it takes to ensure you're happy with the result.
If you follow these tips, you can find someone to help you remodel your kitchen, which is a good fit. With careful research, you can find someone who is reliable and skilled. They will help you make the kitchen that you want.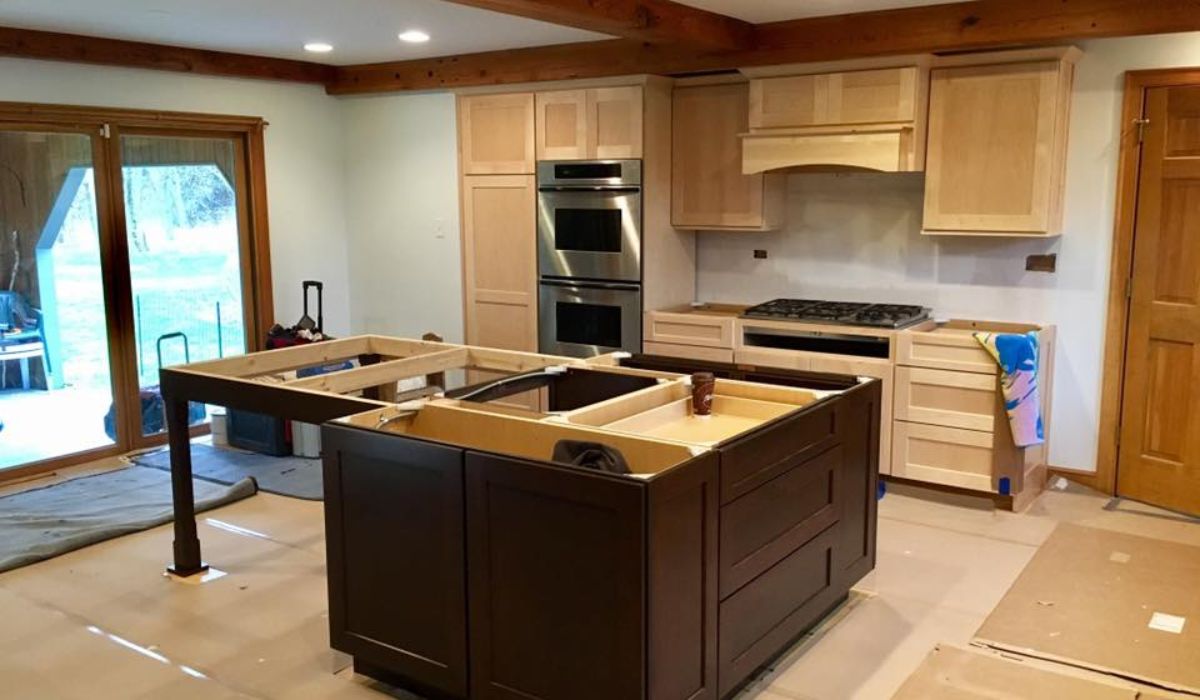 Things To Ensure You Make The Best Decision For Your Renovation Project
Renovating a home can be daunting, with many decisions to make along the way. It's essential to make good decisions when fixing your house. You must choose the right people to help you and decide what materials to use.
Here are some tips to help you be sure that you're making the best decisions for your renovation project:
Set Clear Goals And Priorities
Knowing what you want to do before planning your renovation is essential. Do you want to make your home worth more money, use less energy, or look nicer? Having clear goals will help you spend money on the most important things.
Research And Compare Contractors
It is important to pick the right people to help you fix up your home. Find people who have done this work and have a good reputation. You could ask their previous clients if they liked the result. Ask for quotes from more than one person to compare prices and services.
Consider The Costs And Value Of Different Materials
The materials you choose for your renovation can significantly impact the project's cost and value. Look up different materials that can be used for the project. Compare how much they cost and what benefits they have. Some examples of materials are wood, metal, and composite. Keep in mind the long-term value of the materials and how they will affect the value of your home.
Getting a second opinion is always a good idea, especially regarding major decisions. Consider seeking advice from friends, family, or professionals in the industry. A fresh perspective can help you see things in a new light and make better decisions.
Make A Budget And Stick To It
It is essential to set a budget for your renovation. This will help you stay on track and not spend too much money. Be realistic about your budget and allocate your resources wisely. Feel free to negotiate with contractors or shop for the best material deals.
Don't Rush Into Decisions
It is important to stay on schedule and think about all your options before deciding is important. Don't feel pressured to decide to keep the project moving quickly. Take the time to do your research and think things through before committing.
Focusing on the part of the renovation you will see immediately is normal. But it is also important to consider what will happen because of your decisions. Choose materials and designs that will stand the test of time and add value to your home in the long run.
Keep A Record Of Your Decisions
It's easy to get overwhelmed by all the decisions that need to be made during a renovation. Keep a record of your choices, including the reasons behind them. This will help you stay organized and know how far you have come.
Renovations can be unpredictable, and it's common for things to change along the way. You should change your plan. But think about how it will affect your budget and timeline before you decide.
Listening to your heart and gut when deciding about your home is important. Feel free to go with your gut, but also be willing to seek advice and make changes as needed.
If you follow these tips, you will make good decisions for your renovation project. This will help you create the home of your dreams.
What Are Some Tips For Working With A Kitchen Remodeler?
If you want to change your kitchen, working with a kitchen remodeler is an excellent way to do so. However, keeping a few things in mind ensures the process goes smoothly. Here are some tips for working with a kitchen remodeler:
Communicate Your Vision Clearly
Before you start working with a kitchen remodeler, you must clearly know what you want. Make a list of your must-haves, nice-to-haves, and budget constraints. This will help the remodeler understand your goals and create a plan that works for you. Tell people about any changes to your project as you go. That way, no one will be confused about what you want.
It can take a long time to renovate a kitchen. You need to talk to the person who will help you remodel and tell them how long it will take. You also need to think about other things you have to do and if there might be any delays. A timeline will help the project stay on track and finish on time.
Your kitchen layout can have a big impact on the overall functionality of the space. Consider how you use your kitchen and how you want it to flow. Do you want your kitchen, living room, and dining room to be all in one ample space? Or do you want them to be separate? Your remodeler can help you determine the best layout for your needs.
Choose The Right Materials
The things you choose to use for your kitchen makeover will change how it looks and feels. Consider different ideas and how much money you want to spend before deciding. The person helping you with the makeover can also give you suggestions. Choose things that will last a long time.
Don't Forget About Storage
Kitchens often require a lot of storage, so planning for this during the remodel is important. Think about your current storage needs and how they may change. Your remodeler can help you develop ideas for storing things in your kitchen, like pots and pans.
Pay Attention To The Lighting
Proper lighting is crucial in a kitchen. It not only helps you see what you're doing when you're cooking, but it also sets the mood and atmosphere of the space. You should put extra lights under the cabinets, over the sink, and above the stove. This will make your home look nicer and feel more welcoming.
Work With A Team You Trust
Finally, working with a kitchen remodeler and a team you trust is important. Look for a remodeler with a good reputation and plenty of experience in the industry. Ask for references when looking for people to help you sell your home. This way, you can ensure they will do a good job.
Working with a kitchen remodeler can be a good experience. If you want to have the best cabinets for kitchen remodel. You should tell them what kind of things you want to repair. You should also tell them how long you want it to take and what materials to use. You also need to think about storage and lighting. Make sure you work with a team that you like and trust. By following these tips, you can ensure your kitchen remodel is successful. 
It is a big investment to remodel your kitchen. You want to pick the right person to help you. To do that, you can ask these questions. Then you will know who the best kitchen remodeling companies are. DNT Custom can help you answer these questions. We are excited to help make your dream kitchen come true! Call us today or visit us online to get a free estimate!
DNT Custom Offers The Services As Follows:
Other Articles We've Hand-Picked For You:
Frequently Asked Questions