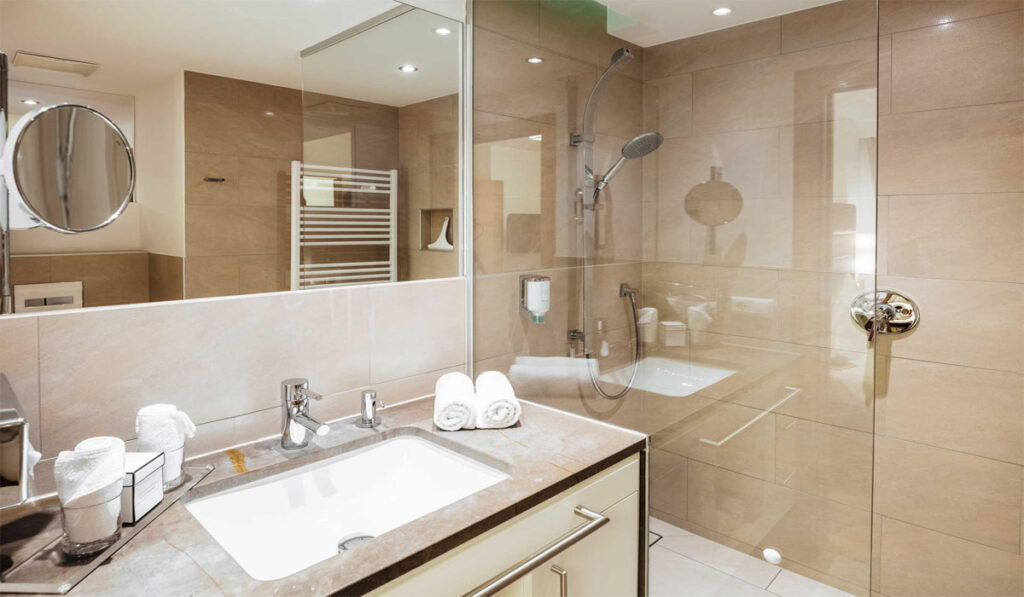 Ideas To Consider When Planning A Bathroom Addition
Why Should You Consider Bathroom Addition To Your Home?
There are many different ways to add a bathroom to your home. Hiring the right contractor is the most critical choice, and DNT Custom is the best option. We'll help you improve your life and make your home more valuable and beautiful. Contact us at (815) 501-8262 to get a free estimate today!
We only work with the best materials and do the best work. You can depend on our work for a long time. Read our FAQ page for more details. Also, you can see how good our work is by looking at our reviews and gallery.
Top Bathroom Addition Ideas You Should Consider
When your home is too small for your family and friends, it's time to add bathrooms. Even if you don't have guests every day, you should still be ready for a family to stop by or stay the night. The good news is that there are dozens of ways to expand it, such as remodeling bathrooms or building an addition.
Adding a bathroom can also be a great way to make the most of the space in your home. When planning your bathroom addition, there are many things to think about.
Here are some ideas you should consider:
1. Do You Have Enough Space?
If you're thinking about adding a bathroom, space is likely an issue in your current layout. Adding another room to the existing space could be a good idea if this is the case. This will give you more space to store things and make your home more useful without requiring you to change its overall look.
One way to do this is to add an en-suite bathroom. To do this, a private room must be set up in the house. It has its sink and toilet, but the door to the room is shared with another.
You could also make a half bath. With this kind of addition, you can add a sink and toilet without taking up too much space in places like hallways or bedrooms. You'll also save money on plumbing and electrical wiring because you won't need as much as you would if starting from scratch.
2. Where Do You Plan To Build?
Deciding where to put a new bathroom in your home can take time and effort. You have to think about the layout of your house, where the plumbing is, and what you want. But don't worry! We're here to help. Below is a list of picking the best spot for your new bathroom.
Consider The Layout Of Your Home
Deciding where to put a new bathroom in your home can take time and effort. You have to think about the layout of your house, where the plumbing is, and what you want. But don't worry! We're here to help. This blog post will show you how to pick the best spot for your new bathroom.
Think About Plumbing Concerns
Before you add a bathroom, think about your home. Adding another bathroom might not be a good idea if it is small or crowded. But if you have a lot of space in your home, consider converting an unused room into a private bathroom.
Personal Needs And Preferences
When choosing the best location for a new bathroom, there are many things to consider. For example, put the bathroom closer to your children's bedrooms if you have young kids. Or, if you are elderly or have mobility issues, you might want to choose a ground-floor location. Think about what is important to you and factor that into your decision.
3. Will It Match The Rest Of Your Home?
Putting in a master bathroom or guest bathroom is a great way to add value to your home, but it can be expensive. If you watch out, you might spend less on things that will last. Instead, make sure everything fits with what is already there. This will ensure that your new addition only stands out a little from the rest of your house.
4. How Much Money Do You Have To Spend?
You should have a rough idea of your budget before you start. Even though it might seem like a good idea to spend more than you can afford, there are better things to do. It only makes sense to put in some of that time and work if you're just going to sell it later for money. The best thing you can do is make sure you have enough money for any project you want to do.
5. What Do You Want To Use The Space For?
If you're adding to an existing bathroom, consider how you'll use the extra space. A master bath is a popular home improvement, but it isn't always necessary. If all you want to do is make your bathroom bigger or add more storage space, you might only have to do a little. Then it might be easier and less expensive to remodel than to add on.
If you decide to add to or change your bathroom, ensure the result is what you want. You're making an upgrade if you move from a small shower stall for one or two people with a small sink area to a large master bathroom with a walk-in closet and a laundry room. There will be a lot of planning and budgeting because there will be a lot of big repairs to do.
6. Do You Have Enough Plumbing And Electrical Systems?
Check if your home's plumbing and electricity are already good enough for the new addition. If not, you will have to deal with these issues before building your new bathroom. Make sure everything works right before you start working on the project. So that problems with the plumbing or electricity don't come as a surprise later.
These are just a few things to consider when planning a bathroom addition. Depending on your needs, think about other things as well. These tips should help you make the most of your space.
How To Fix Problems With A Bathroom Addition?
Consider adding a bathroom to your home. This can be a good idea if you need another full bathroom for the kids or guests. Or you may be finishing your basement and want to add a half-bath or powder room. Before starting your Bathroom remodel project, you should be aware of some challenges. But don't worry—we will give you tips on how to overcome them!
If you plan to add a bathroom to your home, you may need a building permit from your municipality. Every municipality has different permit requirements and processes. If your project requires permits, start the process early to avoid delays.
One of the most common problems with bathroom additions is that water leaks out. It can happen if the drainage or ventilation systems aren't working right, which can cause dampness and mold to grow. Leaking water can also be caused by plumbing that doesn't work right or by leaks around pipes and drains. For this problem to be fixed, you need to call professionals to look at the situation and repair any damage caused by water leaks.
If you're adding a bathroom to your home, you'll need to install new electrical wiring. Wires must be run through the walls and into the attic or basement, which can be hard. Also, if your home has knob and tube wiring, you must take it out before you can install new wiring.
If you feel uncomfortable doing this work yourself, you should hire an electrician. This is expensive, but it makes sure everything is done right.
Most bathrooms are small and don't have good ventilation, which is essential for a safe and healthy environment. If you need to gain the necessary skills or experience, you should hire a contractor. A professional knows how to deal with any plumbing or electrical problems that might come up during the building process.
Finally, there are many things to consider when adding a bathroom to your home. But if you follow these tips and hire a good construction crew, you'll have a new bathroom that you can use for years.
DNT Custom makes it simple to add a bathroom to your house. Our skilled team is here to help you every step of the way. We know how special adding a bathroom to your home is, and we want to help you make the best room possible. Contact us at (815) 501-8262 to get a free estimate and see how we can solve any of your home improvement needs.
DNT Custom Offers The Services As Follows:
Other Articles We've Hand-Picked For You!
Frequently Asked Questions