Kitchen Design – Take the First Steps to Success – Planning
Take A Step In Planning Kitchen Design
Planning is one of the most important parts of remodeling a kitchen well. Let DNT Custom build you the kitchen design of your dreams. We're sure that your kitchen can be both pretty and useful. Our team will do everything to help you make that happen with our quality services. Contact us at (815) 501-8262 today for a free estimate and learn more about our services.
Have more questions? Feel free to visit our FAQs page. Check out also our gallery to see our successful projects.
7 Steps To A Successful Kitchen Design Planning
The kitchen is the most important room in the house. It's where family and friends gather to eat and talk about what's going on in their lives. Also, where people make memories, tell stories, and laugh a lot. Our homes are where we spend most of our time. Because of this, it is important to make a space that is both useful and attractive.
There are a few steps you can take to make sure your kitchen design goes well:
Step 1: Decide On The Layout
Your kitchen layout is important because it will determine how easy it is to move around and how much storage space you have. There are three basic kitchen layouts: L-shaped, U-shaped, and galley. You can also put an island table for the kitchen or other ideas.
The first step in designing is figuring out how you will set it up. Think about how you want to use the space and how many people will be there. If you plan to have a lot of people over, you may need a bigger kitchen with more storage. A small family might need less space to store things than a big family.
Think about how you'll use the space. Do you plan to cook or just need a place to store food? If so, you should put cabinets above the stove that you can use as a pantry if you need to.
Step 2: Create A Budget And Stick To It
You might be tempted to go all out with high-end appliances and the latest technology. But this will only make your costs go up. Make a plan and stick to it. Start saving money if you can while you decide what you want in your kitchen. It will help you determine whether you can afford certain materials. It will also help you stay within the limits of your budget.
Step 3: Choose The Right Appliances
Getting the right appliances is another important part of designing a kitchen. There are many different kinds, like refrigerators, stoves, dishwashers, microwave ovens, and more. Check if these appliances look good together and fit your decorating needs.
You can also give your kitchen a theme, such as a retro or modern, up-to-date look. This will help the room look and feel more like you and what you like.
Step 4: Pick The Right Colors
A kitchen's color scheme is one of the most important parts of how it looks. But it is also one of the hardest things to do correctly. The colors you choose can make a big difference in the overall look and feel of the room. You want to choose soothing colors that will complement the rest of the décor in your home. Hire an interior designer or decorator to help select colors that go well together.
Step 5: Consider Your Lighting Needs
Lighting is a key part of any well-designed kitchen. Ensure your new layout has enough light but isn't too bright or hard on the eyes. If you need to, think about putting lights above each work surface. To keep shadows from getting in the way while you cook or prepare food.
Step 6: Add Some Personal Touches
One of the best ways to make your kitchen design unique is to add some personal touches. This could include adding a backsplash or painting the cabinets a different color.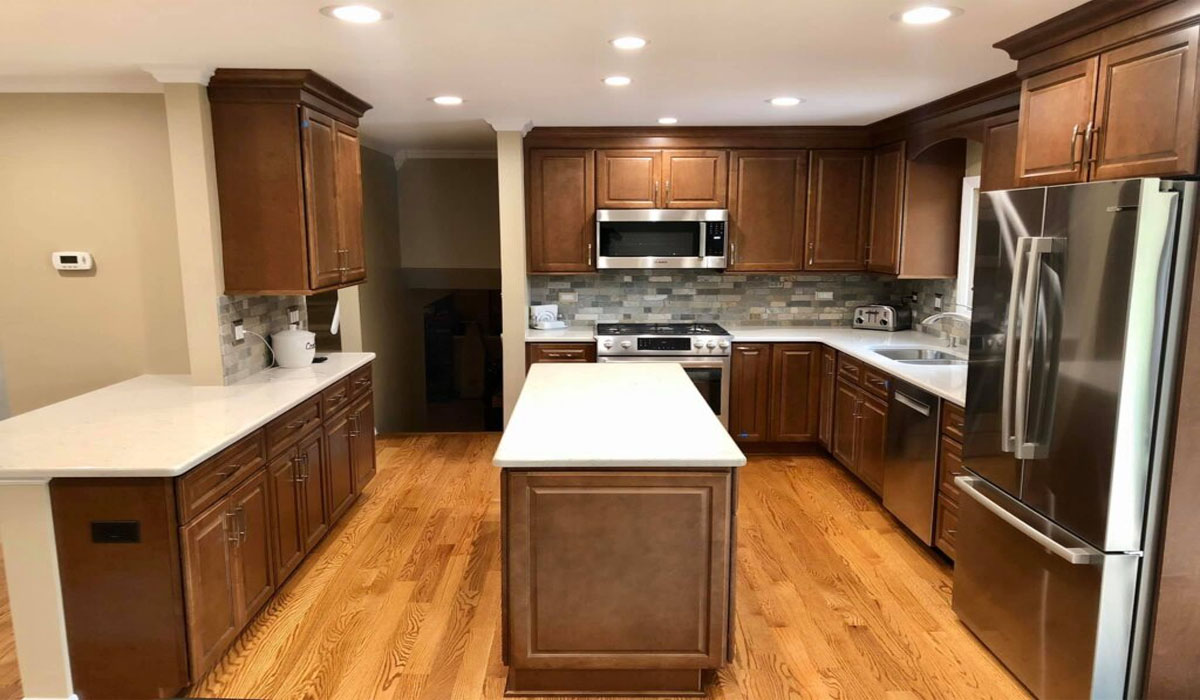 Step 7: Get Help From A Professional
Consulting a professional is a good idea if you need help deciding your layout. They can help you create a kitchen that is both functional and stylish.
These tips should help you get started when it comes to kitchen design. Just remember to take your time and ensure you are happy with the final product. After all, this is your kitchen, and you want it to be perfect.
DNT Custom is the leading kitchen remodeling company. We have over 30 years of experience that will make sure of your success plans. We did many projects for different clients without any complaints. We work with good ethics, and our staffs are all professional. Visit our gallery to see our kitchen remodeling success projects. 
Why choose us to be your contractor? Our team believes that "quality doesn't cost, it pays," and doing the job right the first time benefits everyone. Contact us at (815) 501-8262 for a free estimate and get the kitchen you desire with our experts' help. 
DNT Custom Offers The Services As Follows:
Other Articles We've Hand-Picked For You!
Frequently Asked Questions