Transforming Illinois Homes: The Art Of Custom Kitchen Remodeling
The Art Of Custom Kitchen Remodeling
Step into a world where your dream kitchen comes to life with exceptional precision—DNT Custom is your key to unlocking this reality. Specializing in Kitchen and Bathroom Design, we take particular pride in our expertise in Kitchen Remodeling. Our satisfied customers often say, "If you can dream it, DNT Custom can build it," and you can find out exactly why by exploring our glowing reviews and FAQs. Don't let your dream home remain just that—a dream. Dial (815) 501-8262 now and transform your space into a masterpiece.
The Essence Of Kitchen Remodeling
When it comes to rejuvenating your home, the kitchen reigns supreme. It's more than just a space for culinary adventures; it's the heart of your home. Remodeling is a comprehensive endeavor that not only elevates the value of your dwelling but also encapsulates the unique charm of Illinois style in every nook and cranny.
In the ever-evolving landscape of home improvement, Remodeling stands out as an art form, offering homeowners a unique opportunity to create spaces that are as functional as they are aesthetically pleasing. 
Crafting Your Dream Kitchen
Your kitchen is more than just a room for preparing meals; it's the heart of your home, a space where memories are made and conversations flow. Crafting your dream is a journey of personalization, innovation, and transformation. In this section, we delve into the art of custom kitchen design, exploring how you can shape your cooking area space to reflect your unique style and needs. Discover the endless possibilities that await as you embark on the path to your dream cooking area.
• Custom Kitchen Design: A Personalized Approach
The key to a truly exceptional kitchen lies in customization. Custom cooking area design is all about tailoring every element to your preferences and needs. From selecting the perfect cabinet finish to optimizing counter space, you have the power to make your cooking area an extension of your personality.
• Collaboration With Design Experts
Embarking on a kitchen remodeling journey in Illinois means entering a world of innovation and design brilliance. Here, you'll find an array of professionals with renovation expertise ready to collaborate with you. Their guidance will transform your vision into a stunning reality.
• Incorporating Modern Trends
In the realm of kitchen design, staying current with modern cooking area transformations is crucial. Illinois homeowners are embracing sleek, minimalist aesthetics, and eco-friendly technologies. Think energy-efficient appliances, smart storage solutions, and timeless color palettes.
The Expertise Behind Kitchen Renovation
The pursuit of a dream kitchen begins with finding the right experts. In Illinois, you'll discover a league of seasoned professionals who bring unparalleled kitchen renovation expertise to the table. Their experience ensures that your project will be executed flawlessly.
Efficiency is a cornerstone of modern cooking area design. With Illinois specialists guiding the way, your kitchen will be a masterclass in utilizing space. No more wasted corners or cramped work areas – just a seamless blend of functionality and style.
Transformative Elements In Kitchen Remodeling
Embarking on a kitchen remodeling journey is a thrilling endeavor that can utterly transform your living space. Within this transformation lie the pivotal elements that define the character and functionality of your cooking area. Your journey to the perfect one involves attention to detail in various aspects:
Cabinetry: The Heart Of Kitchen Design
Custom cabinets are the backbone of any kitchen. They not only dictate the aesthetic but also play a pivotal role in organization. Illinois kitchen remodeling experts understand the significance of cabinetry, offering tailored solutions to meet your storage needs.
From luxurious marble to durable quartz, your choice of countertops and surfaces can redefine your kitchen's character. Illinois provides access to a plethora of materials, each with its unique charm.
A well-lit cooking area is a joy to work in. Illinois experts excel in crafting lighting solutions that enhance both functionality and ambiance. Pendant lights, under-cabinet illumination, and smart fixtures are just a glimpse of what's available.
Flooring And Backsplashes
Flooring and backsplashes tie the entire kitchen together. Illinois homeowners are increasingly opting for eco-friendly materials that not only look stunning but also withstand the rigors of daily use.
Appliances And Smart Technology Integration
Modern kitchens thrive on technology. Remodeling includes integrating high-tech appliances and smart home systems, making your cooking area efficient and convenient.
Modern Kitchen Transformations
In the ever-evolving world of interior design, one area that has seen a remarkable revolution is the modern cooking area. Gone are the days of purely utilitarian spaces; today's kitchens are not only functional but also exude style and innovation.
• Embracing Contemporary Styles
We are embracing contemporary styles that emphasize clean lines, minimalist design, and a seamless flow between cooking, dining, and living spaces. It's a trend that brings modernity and functionality to the forefront.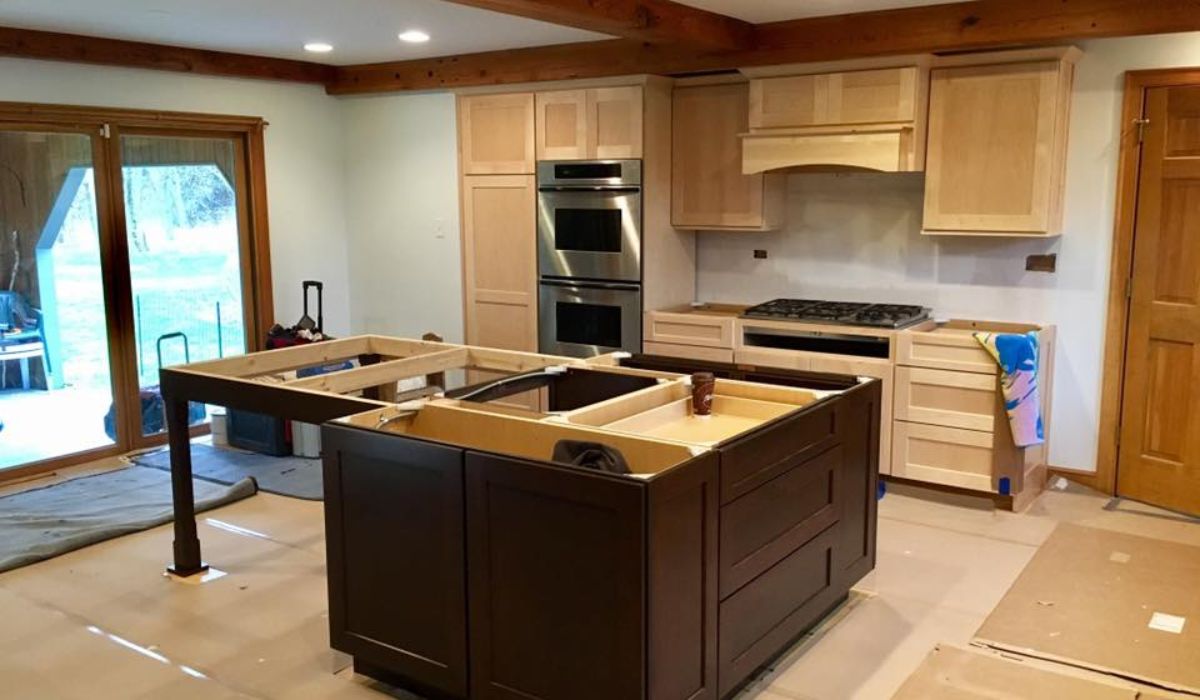 • Sustainable And Eco-Friendly Design
Environmental consciousness is a driving force in modern kitchen transformations. Illinois homeowners are opting for sustainable materials, energy-efficient appliances, and eco-friendly practices to reduce their carbon footprint.
• Maximizing Functionality In Modern Kitchens
In today's fast-paced world, a cooking area should not only be beautiful but also practical. Illinois designers excel in maximizing functionality, ensuring that every inch of your cooking area serves a purpose.
The Journey To Your Dream Kitchen
Undertaking a remodeling project is not just a home improvement task; it's an exciting voyage. This journey leads you from the initial vision of your dream cooking area to the moment when it becomes a reality. In this segment of our exploration into the world of Illinois kitchen remodeling, we delve into the fundamental elements that accompany this path. From budgeting and timelines to the crucial role of communication, join us as we navigate the course toward attaining your culinary sanctuary.
As you embark on the path to cooking area remodeling, consider these essential factors:
Budgeting For Kitchen Remodeling
Creating your dream cooking area is an investment, and setting a realistic budget is crucial. Illinois experts will help you make informed financial decisions, ensuring your vision aligns with your budget.
Timelines And Project Management
Efficient project management is key to a successful remodel. With Illinois professionals overseeing your project, you can expect timely completion and minimal disruption to your daily life.
The Importance Of Communication
Clear communication between you and your design team is vital. Effective dialogue ensures that your ideas are understood and implemented, resulting in a cooking area that surpasses your expectations.
To illustrate the wonders of kitchen remodeling, we present inspiring success stories from satisfied homeowners. These transformations showcase the artistry, creativity, and skill that Illinois experts bring to every project.
The art of custom kitchen design and kitchen renovation expertise converge to create kitchens that are as functional as they are beautiful. With a focus on modern cooking area transformations, homeowners are elevating their living spaces to new heights, embracing sustainability, and maximizing functionality. Embark on your own journey to a dream cooking area, and let Illinois experts turn your vision into reality.
As we conclude our journey through the world of exceptional Kitchen Remodeling in Illinois, remember that your dream kitchen is just a phone call away. At DNT Custom, we specialize in bringing visions to life by providing exemplary Kitchen Remodeling services that transform homes. Our unwavering commitment to excellence has been validated by the acclaim and testimonials of our delighted customers. Consult our Frequently Asked Questions section if you have any questions or are looking for expert advice. Contact us at (815) 501-8262 to take the first step toward your ideal kitchen. Together, let's design the kitchen of your dreams.
DNT Custom Offers The Services As Follows:
Other Articles We've Hand-Picked For You: